The Lord blessed us on May 23rd, 1941 with racial and turbulent beginnings for General Norman Johnson in Norfolk, VA. Although widely believed to be a "stage name", this is to be his God given name for life. He was musically inclined before he could walk. Intrigued with sound and instruments, less of discovery or entrancement in infant years but more fashioned to be a part, control, and create the very essence of music. Stories of him dancing before he could walk and singing before he could talk are not hard to swallow after witnessing a single performance. That debut to the world would begin at the age of six in his church choir. In 1955 he first recorded on Atlantic Records at the age of twelve under the never to be released name of the Humdingers. That collection would be finally released in 1961 under the new group name that would be a foundation in what would later become beach music, The Showmen. That label Minit records would give the world "It Will Stand", a song that debuted on American Bandstand and quoted by Dick Clark as "…an anthem of an entire generation". That same year, suffering from a severe cold, he was forced by Swan Records to produce "39-21-46" as the labels for the 45 were already printed. He switched the lyrics for rhyming and articulate purposes to "39-21-40 shape" last minute in the studio. This was to become a cornerstone in Carolina Music and would eventually bring him into the performing circuit throughout the Southeast and ultimately bring him home.
---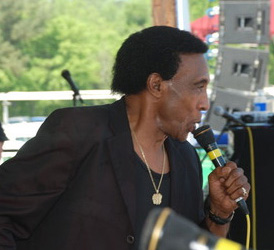 In 1968, the Showmen disbanded and General pursued a career as a writer with Holland, Dozier, and Holland breaking free from Motown and creating Invictus Records. Mr. Johnson penned great hits while living with Lamont Dozier such as: "Somebody's Been Sleeping In My Bed" by 100 Proof Aged in Soul; "Want Ads", "Stick Up", "One Monkey Don't Stop No Show" by Honeycomb; Freda Payne's "Bring the Boys Home"; and so many more it's unreal.
During this time at Invictus he started recording and performing as The Chairmen of the Board and introducing us to Danny Woods. Let the tunes roll out… "Pay To The Piper", "Give Me Just A Little More Time", "You've Got Me Dangling On A String", "Everything is Tuesday" and the original "Patches" which would become the GRAMMY Award winning R&B Song of the year in 1971 as recorded by Clarence Carter. "Soon, business disagreements deteriorated our musical relationship and eventually terminated our successful venture. In 1974, I left Invictus." – General Norman Johnson
This one action would prove to be the genesis for what we now call "Beach Music". The Chairmen of the Board hadn't performed in eight years when he returned to the Carolina's with Danny Woods adding Ken Knox and with the help of Agent/Promoter, Michael Branch, something big was about to happen to us all. It wasn't long that the touring and the show was unending and unstoppable. General remembered his earlier visits to the south: " My career has been a long exciting journey with all roads leading to the musical oasis called Beach Music. In the spring of 1966 in Raleigh, North Carolina, as lead singer of the Showmen, I performed before my first Beach Music audience. Thinking Beach Music was music by artist like The Beach Boys and Jan and Dean, we nervously performed a variety of rhythm and blues classics. Surprisingly, each song was met with the audience's approval. As we ended the show with our regional hit "39-21-46" and our nationally charted hit song, "It Will Stand," the audience responded by applauding us back for an encore. Because we didn't know any other songs to perform, we sang two more verses of "It Will Stand" and spontaneously, began to ad lib the chorus of Bruce Channel's song "Hey Baby." As we sang "Hey Baby," we waved our hands in the air and to our surprise, everyone in the audience responded by doing the same. When we concluded the show with a bow, the audience showed their appreciation by rewarding us with another thunderous round of applause. That spring night, I understood, appreciated and became a part of the Beach Music phenomenon."
After years of music industry duress, General Norman Johnson introduced us to his baby known as "Surfside Records". This marketing genius and prolific songwriter then gave us "The Gift Of Beach Music". This album was the cornerstone in Beach Music. A collection of tunes that would be locked in our souls forever and emulated by writers and musician to this very day. Everyone I know can sing along to: "Down At The Beach Club", "I'd Rather Be In Carolina", "On The Beach", "Summer Love", "Bird In The Hand", "When Can I See You Again", and of course "Carolina Girls". It wasn't long that the national scene was back on his coat tails with the release of "Loverboy" on Arista Records and promotion by his Record Representative, Jerry Goodman. General Johnson said, " In 1981, two years after forming Surfside Records, I was contacted by Motown Records, leading to discussions with then CEO Mr. Berry Gordy Jr. The meetings at his home in California were personable and candid. His offer could have proven to be financially lucrative for me but would have meant moving to California and abandoning Surfside Records and the musical utopia that I had found to be a safe haven. I respectfully declined Motown offer and for years, I wondered if I had made the right decision".
In the year 2000 General was quoted as saying, "Nineteen years later, I have absolutely no regrets. Those years have been filled with excitement and personal fulfillment that exceeds any monetary gains that I could have attained". The music never stopped with songs like "Gone Fishing", "Dreamin'", "Shaggin' The Night Away", "It Ain't What You Got, It's They Way That You Use It" and so many more leading us right up to today with the "Soul Tapestry" offering. He's been a recipient of a Grammy, numerous CBMA Awards, and in recognition of the contribution that Johnson has made to American popular music, the Virginia General Assembly designated June 9, 2001 as "General Johnson Day" in Virginia.
In 2009, The General Finally gave us his two disc set, "Beach Music Anthology" a collection of his modern day successes and rerecorded perfections of his classics from the Invictus years. There was a lot of sweat that went into this project that hails to be a Bible of Southern classics. The Chairmen of the Board is widely known as one of the top entertaining R&B acts in the world. The performance has been a catapult for our music industry, a leader in song-writing and recording, and a liaison for children to college students into the Beach Music and Shag scene.
On October 13th around 10pm in a hospital in Atlanta, GA, General Norman Johnson joined the night shift and left us with more breathtaking performances, memories, and a collection of tunes that will forever represent and entire music industry, culture, and lifestyle.
A personal note: General Johnson's very existence as the ambassador of Beach Music is the sole reason there is an allegiance of live "southern-soul" music lovers. An unprecedented following from night clubs, large venues, and especially festivals. When Coastline started in 1992, Andy Smith brought us under the wing of Insight Talent (Mike Branch and General's Agency). I was in awe by his presence. He grew very fond of me and we became good friends. He always gave me advice and insisted that I keep writing and performing my songs to create loyal followers. I have listened and I will act accordingly. I am a fan. Unworthy of ever comparing or relating myself to his stature, I will say he taught me everything I know. At his final performance of the Triangle Beach Music Festival in 2009 he asked me to join him for a private listening to the unreleased "Soul Tapestry". While listening, there were certain places where Mr. Johnson would tear up and cry. He believed what he wrote. He conveyed it when he sang to the point that was knee deep in own emotions, even when reviewing his own work. I honestly believe, he knew this day was coming and he wrote this song to us… A message to us:
CHANCES ARE
(Written by General Johnson)
Sometimes I think about it, where did all the time go
Seems like just yesterday, I never thought of growin' old
When I look in the mirror my daddy's face I see
Slowly but surely, time has taken its toll on me
Shattered dreams, scattered schemes, the check was always in the mail
If success is material things I guess I failed
But if I could live my life all over again
I wouldn't change a thing
If I could live my life all over again
I wouldn't change a thing
Cause if I would change one second of my life
Chances are…I wouldn't have you
I had some bad times ah but I had me some good times too
Ain't it funny how as time goes by most of the bad times seem like good times too
When I think about my young and crazy days
I regret the precious time I wasted away
Sometimes I wonder how I made it through it all
I slipped, tripped, and stumbled but I refuse to fall
And If I could live my life all over again
I wouldn't change a thing
If I could live my life all over again
I wouldn't change one thing
Cause If I would change one second of my life
Chances are…I wouldn't have you
Oh without you-what would I do
I'm no good without you
I wouldn't trade places with the richest man on Earth
Money can't buy me a friend; money ain't what I'm worth
Ups, downs, round and rounds help me be who I am
I wouldn't change a doggone thing cause you love me for who I am
Oh If I could live my life all over again
I wouldn't change a thing
I said if I could live my life all over again
I wouldn't change a thing
Cause If I would change one second of my life
Chances are…I wouldn't have you
A Final Note: By spinning from Don McLean's "American Pie" and re-coining a phrase, my intentions are not to create fear or disillusion with fans of our music. I also have no intentions degrading anyone else or placing demise in any regard. It is just duly noted that things will never be the same. There is no effort available, obtainable, or permissible that could even venture into the realm of this great man's amplitude, enormity, and merit. The undisputed "King Of Beach Music" has passed. A musical genius. A good man. A loving man. A humorous man. A generous man. After all, today's the day Beach Music died, but the gift of Beach Music lives on.